Famous Afropop musician Asake has reached out to those who got injured at his London concert last night following a commotion after the show was cancelled.
Recall that the show organizers had cut the concert short, announcing there had been a security breach while adding that the police had requested they shut down the show.
A pandemonium had followed which caused some injuries, while others lamented their dissatisfaction.
Asake has apologized to aggrieved fans and those who had sustained injury in the commotion. He prayed for their quick recovery, adding that he didn't have a full account from the managers as to what had led to the disruption.
He wrote:
"My heart is with those who were injured last night and caused any form of discomfort. I pray you get well soonest. I am also in the process of reaching out to individuals. I still do not have the full brief from the venue management themselves as to what led to the disruption at the entrance of The Brixton Academy, but we are thankful that all was peaceful at the end. For my people who enjoyed the beginning of my performance, I am sorry that it was cut short. Thank you for your unbelievable love London. I love you too much! I'm looking forward to seeing you again in a bit!"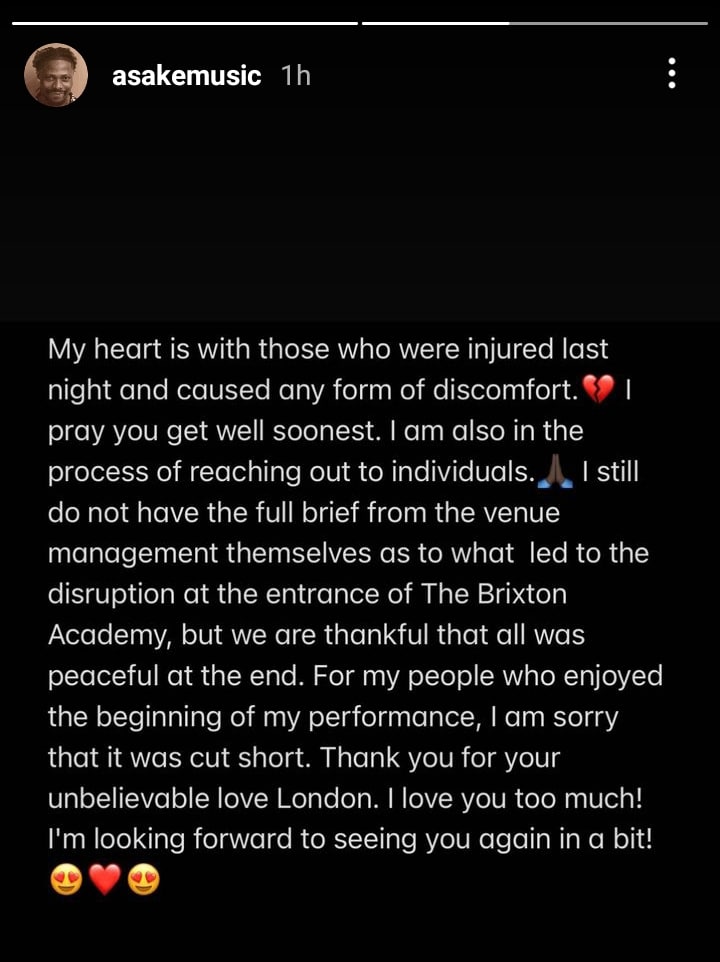 Click Here To Comment