Popular comedian Broda Shaggi has chastised those who justify the action of a dispatcher who ate part of a customer's food before delivery.
Apparently, a customer in Lekki, Lagos State, had ordered food online, which was delivered by the dispatch rider.
It was gathered that the bike man had arrived late after supposedly diverting to eat half of the food.
During an argument that followed after the customer found out that the food had been partly eaten, the dispatch rider admitted that he had opened the takeaway but didn't eat the food.
Watch the video below:
Some netizens had asked that he be forgiven, as it could have been hunger that drove him to do that.
Shaggi had reacted by wondering why people always justify the bad attitudes of others.
He said that there shouldn't be any justification for such a bad act since he's being paid for his work.
Broda Shaggi wrote:
"Why people dey do like this na. Seeing comments like "No vex, no hunger," I don't know why we support bad attitudes and give excuses for them. There's no justification for this act at all cos he no suppose try am at all. You work as a dispatcher, and you're paid for your job, so why eat a customer's food? This is just So wrong Abeg"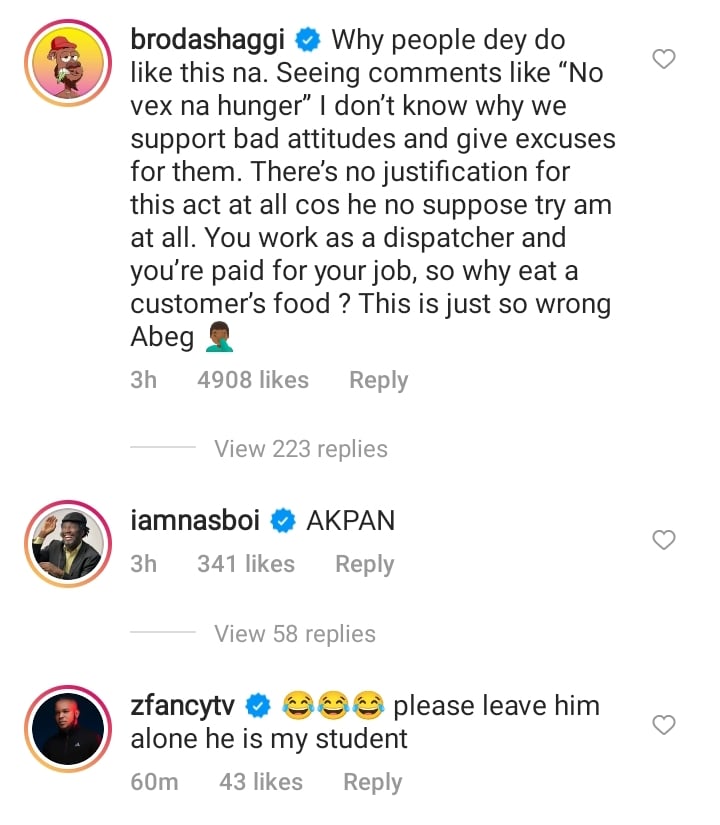 Click Here To Comment