Toke Makinwa, a media celebrity and YouTuber, has turned to social media to appear to address a certain person who allegedly did her dirty.
The 37-year-old TV anchor wrote in a cryptic post that she is not friends with anyone who has cheated on her or said negative things about her in the past.
She claims that she is still nice and friendly with the individual since her profession necessitates it, but she will never forget what they did to her.
She wrote, "I'm not friends with anyone who has ever done me dirty. I might be cordial cos that's what I do for a living, but baby, these eyes, chico, they never lie and I never forget too.
That's on period. "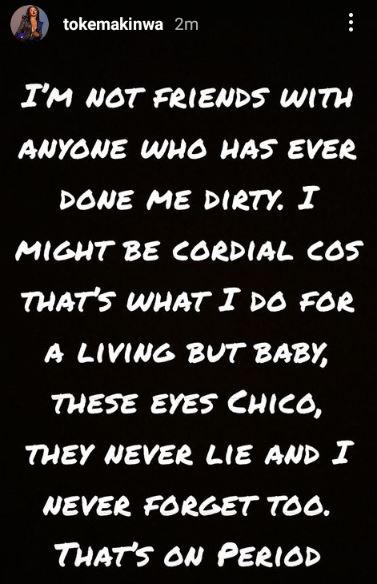 Toke Makinwa once encouraged people to cultivate the fortitude to be despised.
The media personality who received backlash on social media for her "money for hand, back for ground" remark believes that public approval does not boost one's net worth.
Toke believes that no matter what others say, the only way to live a happy and fulfilling life is to "Do you."
She pointed out that in today's environment, only a few people can claim to be free to be themselves.
Taking to Twitter, she wrote,
"Have the courage to be disliked. Public validation does not put money in your pocket. Your lane might not be popular, but you are living your truth, and that's so much more than a lot of people in the crowd can boast of. Do YOU".
Click Here To Comment