The talented Nigerian rapper Tuotamuno Daniel Darius, widely known as Dandizzy, is furious about how Lagosians exhibit classism.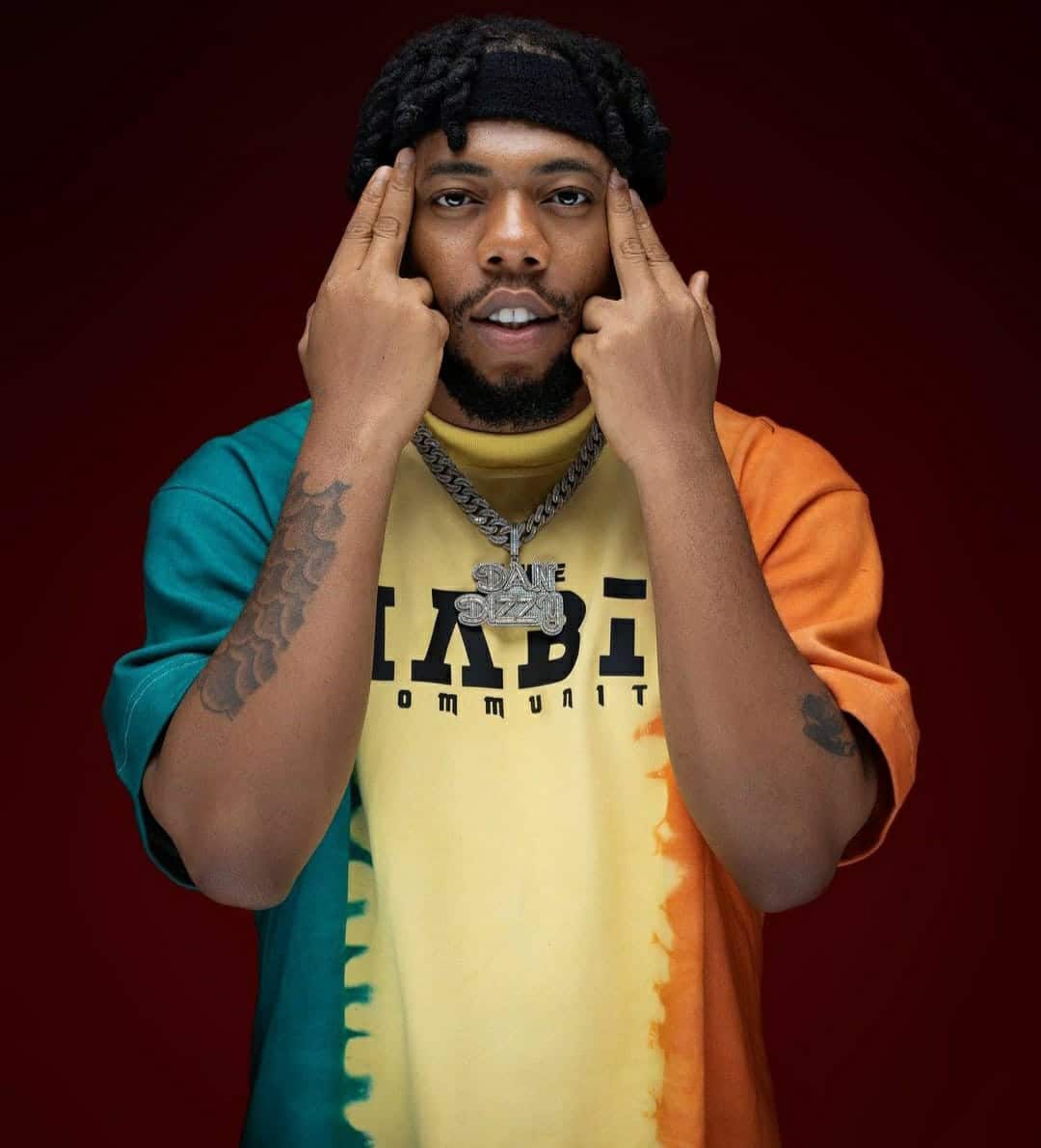 The rapper shared his opinion via the microblogging platform, Twitter, where he accused Lagosians of classism.
According to him, Lagosians pay for a luxury they can't enjoy. They live in expensive houses that have similarities with boarding schools.
Dandizzy notes that Lagos is too chaotic a place to live in and that even the top celebrities barely stay there anymore.
The rapper also touched on the killing that occurs on a daily basis, but no one ever talks about it.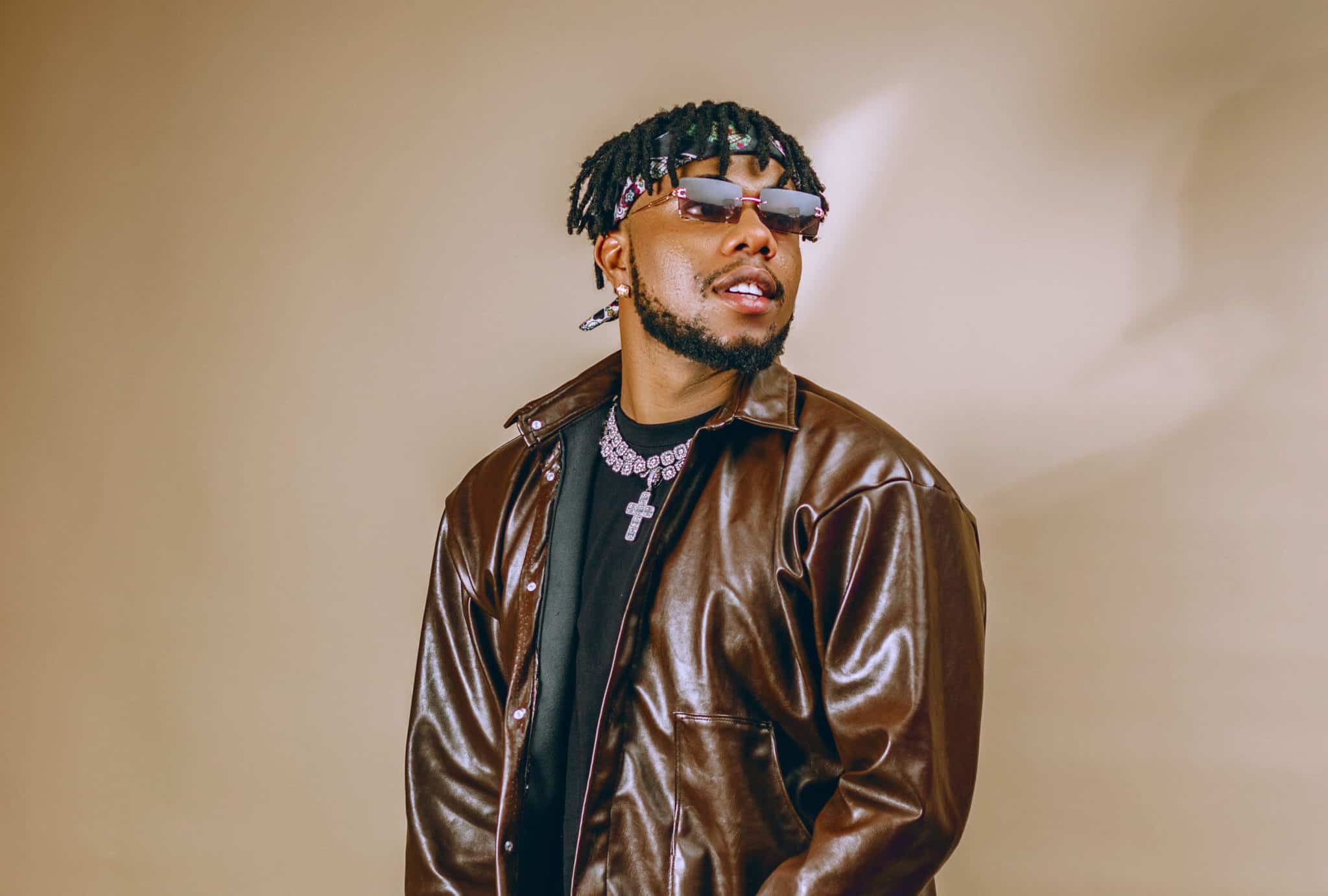 Read more below;
"Dear Lagosians, there are 36 states in Nigeria; Nigeria does not start and end in Lagos!" People live in Calabar, Port Hacourt, Akwa Ibom, Enugu, Benin, and the Delta. They have amazing lives; they do not drink yellow water, spend half their lives in traffic, or pay expensive rent.
You people pay for luxury and do not even enjoy any luxury; you pay rent and still live like you're in boarding school.
Even lagos people go to abuja and think they're abroad, they cannot believe that ordinary people should enjoy the basic things abuja people enjoy" because of their classist mentality, most mainland people have better lives than island people. 
If nah porthacourt them kill one boy and lawyer in space of one month the entire twitter will scream ph and violence, but I can count the amount of violence that happens in lagos daily that does not get media coverage, we have been having successful events in ph for years now!! Most people will say I cannot afford lagos life lol, me wey Dey do urgent 2k for people wey Dey get likes pass me for Instagram, me wey Dey follow una big bailers go club, them no Dey hold money to pay for anything and I Dey chest my bill, lol if only you people know the truth.
I actually have a house in ph and another in lagos I'm thinking of renting a third in abuja, my music business takes me all over nigeria and lagos is too chaotic for me to live or even raise a family, wizkid don abandon una Burna barely stays in lagos,anybody wey blow Dey japa.
"I say what most of you want to say but aren't bold enough to say; most of you have different opinions but follow popular opinions because you don't want to be dragged, but the more you remain silent, the more a dead narrative begins to look like truth."
See post below;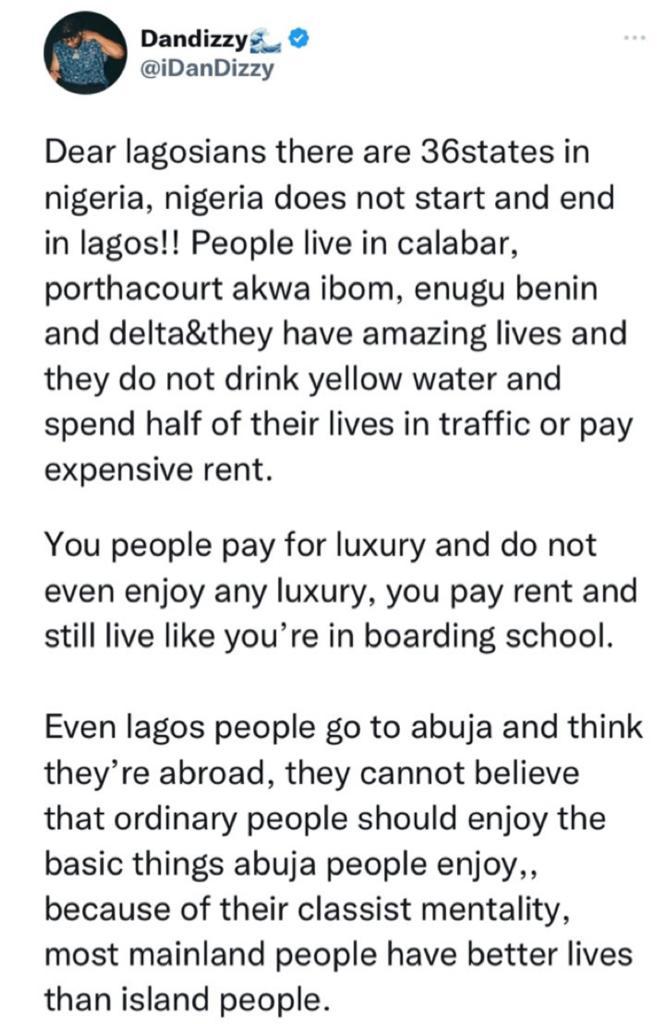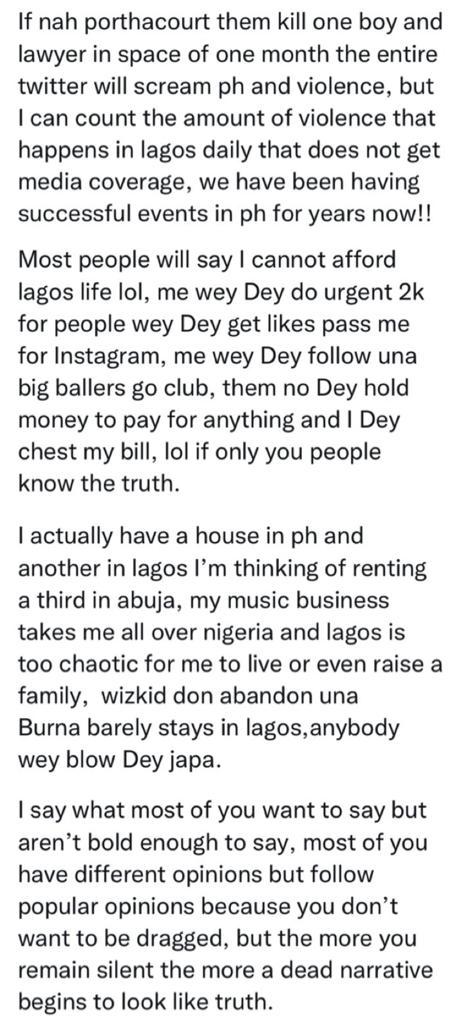 Click Here To Comment